Pacific Playgrounds Is Winter at Its Best
Hike, Ski, and Enjoy Vancouver Island's Foodie Culture
Once upon a time, there was a warm place that had clear roads, starry skies, loads of skiing, and a beautiful ocean to enjoy. Oh wait, that place isn't a daydream, it's reality. Pacific Playgrounds Oceanside Resort offers you the best that Canada's winter has to offer–a warm valley setting in which to picnic, hike, hot tub, and patio, and a huge mountain on which to carve some powder and track through some pristine glades. If you're lucky, you might even get to ski and golf all in the same day.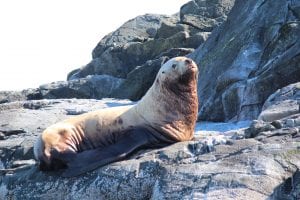 Seriously, why suffer winter on the Prairies when you can hop on a direct flight to Comox. Home to cottage is typically under four hours for any Prairie city, and then it's an easy drive from the airport to Pacific Playgrounds. Once here, stay in one of our cosy, recently renovated cottages, golf nine holes the next morning and then ski Mount Washington in the afternoon–Nordic or Alpine. Then, it's brews on the adult-only patio and long soaks in the hot tub under the stars. Really, it doesn't get any better.
On your days off the mountain, hit the road for nearby, must-see destinations such as Wayward Distillation House, a fun operation that won't disappoint. In fact, wineries and distilleries abound, so be sure to check out the bunch of them–from Beaufort Vineyard to Blue Moon Ciderworx to Shelter Point Distillery and more. Discover Comox Valley is a great place to find tours and events. Also be sure to visit one of the several highly rated museums in the Campbell River – Comox area. This land is rich in history and diverse cultures. Most museums are open all week and closed Mondays, so check ahead when planning.
Stay With Us for the Season
For those who are retired with flexible stay options, Pacific Playgrounds makes a great, long-term home base for daily trips out and about. We rent our freshly renovated two-bedroom cottages for weekends, weeks, months, and even seasons, and they're for rent full-time until April. Our prices are much more affordable than hotels, and our beautiful resort is a quiet, serene community that you'll be happy to return to every night.
Our cabins are nestled in nature, with the ocean on one side and old-growth forests on the others. Walk or drive to the many nearby nature conservancies, and enjoy kilometres of coastline to explore on foot, by car or by boat. Many of the eco-tour and whale-watching companies operate all year long, so be sure to check into all that Vancouver Island has to offer.
For adventurers, there's ziplining, heli-tours and lots of hiking and walking discoveries to be had. We look forward to being your favourite winter playground.
Learn more about our seasonal cottage rentals here.