Cozy, Two-Bedroom Cottages
Set amongst majestic Douglas Fir trees, Pacific Playgrounds offer 20 modernized and fully-equipped cabins that are the perfect choice for your next family vacation or work retreat. Choose river side or park side placements.
Fresh and fully stocked cabins
Our cottages are non-smoking and have been fully renovated with new flooring, paint, stainless steel appliances, and furniture. Kitchens are thoughtfully stocked with all the basic cooking and dinnerware needed to ensure your stay is comfortable.
Each cabin has one 4-piece bathroom, complete with towels. The master bedroom offers one queen bed and a dresser, and a second bedroom has two single beds and a dresser. Living rooms are furnished with a comfortable sofa bed that sleeps two, an armchair, coffee table, end tables, lamps and electric fireplaces.

Amenities inside and out
To add to the cozy interiors, each cottage has an electric fireplace that you can snuggle up to when watching TV (complete with basic cable and Wifi internet access. Upgrades to Wifi and additional cable channels can be purchased.
Each cabin also comes with a spacious deck and chairs, a picnic table and fire ring. Most day-to-day supplies can be purchased from our Beachcomber General Store or from the local Discovery Food grocery store, less than a kilometer from the resort.
Cottages
Had a wonderful peaceful weekend here with my sister-in-laws and dogs. Cabins very comfortable and clean. Lovely setting by the river. Easy walking distance to grocery shop. … — TripAdvisor Reviewer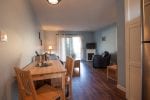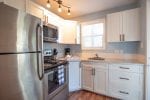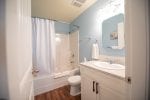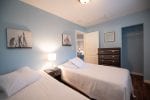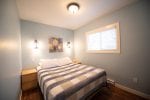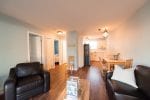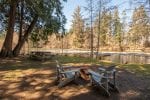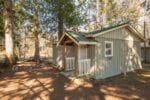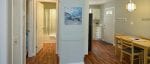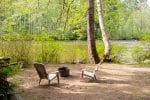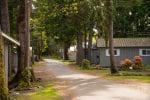 Cabin Rates
Depending on the season, our cottages are available for daily, weekly or monthly rentals, with a minimum two-night stay and minimum three-night stay on all long weekends. Please note that special rates will apply for all long weekends.
Extra guests and pets can be accommodated, so please let us know when booking. If you're unable to find a cottage during the date range you'd like to stay, be sure to look at our popular Stay-in-place RVs.
A $30.00 cleaning charge is applied to all RV Rentals and Cottage reservations.
Please note our rates and fees are subject to change without notice.