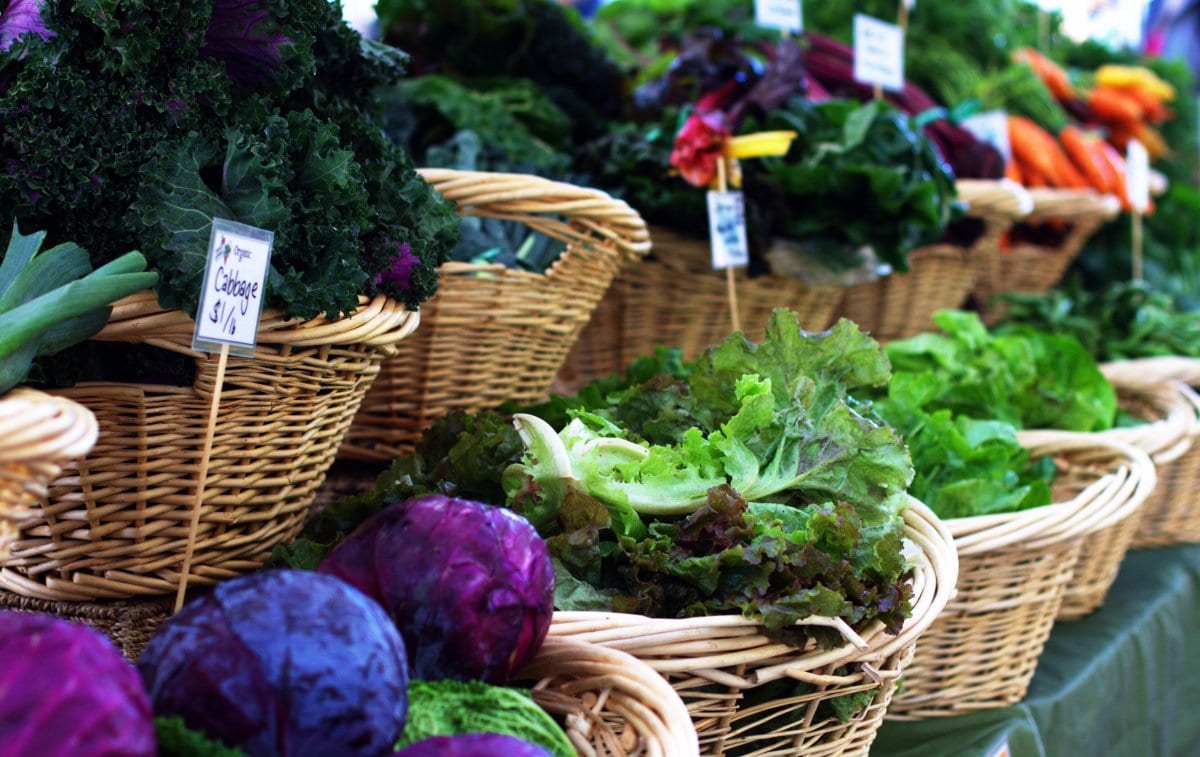 Farmer's markets and stands near Pacific Playgrounds Resort
Vancouver Island Things to Do: Sample The Nearby Farmers Markets and Stands
One of the many benefits of Vancouver Island life and proximity to Pacific Playgrounds Resort is the abundance of fresh and local fruits and veg, pasture-raised meat and other sweet and savoury delights offered by our local farmers.
And the place to find some of these gems is in the nearby Campbell River and Courtenay region. It has several full farmer's markets but we also want to share some insider tips on farm stands. Those hard to research but not to be missed roadside attractions where you'll find delicious fresh produce; and get an opportunity to chat with locals who can share tips, directions to neighbouring treasures and maybe even a story or two!
Our list will also help you plan your discovery trips. It's important to note that since many stands are at the end of a driveway you'll have to take extra care to drive safely. Its very easy to overpass or miss a "can't-miss" fruit stand. Take your time and find a convenient turn-around point or simply make a note to not miss it on your return journey.
One tip is to add multiple destinations on your navigation system. We have included addresses below to help the planning process.
And remember, the shopping experience is such a pleasure you don't need to overload on your first visit or first stand. Embrace the experience, learn about each farm and after a while pick your favourites to return to for your bigger produce hauls.
Did you know many farms offer special conveniences including a sort of farm-side pick up? We always recommended calling ahead if you have your heart set on a certain venue. Hours are often (but not always) listed on their websites, and even then, the weather can result in uncertain hours.
Popular farms, markets and stands of Comox Valley and Black Creek
Here is a starter list of fruit and veg farms. These are just some of the countless options, so don't forget to enjoy the journey and find your own secret spots. Enjoy the trip!
Address: 6669 N Island Hwy, Merville, BC V0R 2M0
This family farm produces a large variety of veggies and fruit as well as eggs. They also raise a small number of pigs on pasture. Purchases can be made at the farmstand and by order. They are located in the heart of Merville north of Courtenay.
Address: Various
The seed purveyors at Good Earth Farms don't have a fixed roadside location, but you can follow them on FB https://www.facebook.com/goodearthfarms.ca. They are often spotted at the many farmers markets or you can track which farmers sell produce derived from Good Earth Farms' certified organic natural seeds.
Address: 6126 Island Hwy Courtenay, BC
It's barbeque season! Visit the Smith family on their farm or at the Comox Valley Farmers' Market on Saturdays. The farm sits at about 190 acres and raises grass-fed beef cattle, pasture-raised lamb, pork and poultry. "We have been proudly supplying the Comox Valley with excellent quality meat for the last 125 years!"
Address: 7911 Island Hwy, Black Creek, BC
Brian and Lia McCormick grow lots of leafy greens and veggies, raise happy chickens, host chef-led cooking demos and operate a bustling farm store full of culinary delights. From March to November their fridges, tables and shelves are filled with a fantastic array of spices, produce and treats. It's a "must-visit" destination!
Address: 8083 N Island Hwy, Black Creek, BC
Located in the heart of Black Creek, visit this driveway farmstand  for the freshest produce, berries and non-gmo eggs from the pasture. The farm runs on the honour system and they stock up daily right at the farm gate.
Address: 8376 Island Hwy North Black Creek, BC V9J 1H2
You are highly encouraged to visit this popular farm's website and order in advance. Keep your eye out for tomatoes, lettuces, squashes, melons, tomatillos, cucumbers and flowers. You'll be notified when ready for pick-up. It's easy and delicious.
Address: October Comox Valley Exhibition Grounds (4830 Headquarters Rd Courtenay)
The Comox Valley Farmer's Market is the largest market in the area, open from 9 a.m. – 1 p.m. Saturdays. Check out their website and follow them on social as they often have other pop-up markets in various locations throughout the year.
A macro view and guide to over 145 markets across the entire province. Explore these diverse regions of BC, and learn about the passionate growers, makers and bakers you'll find at farmer's markets along this trail.
Golfing on the Island
We have been getting multiple inquiries about golfing on the island. The Pacific Playgrounds (Comox Valley-Black Creek) area has several open courses; however, it's best to understand and research government rules and guidelines around Covid before booking your tee time.
We find this resource a great one to help navigate your options: Visit golfvancouverisland.ca
Shoulder season rates for oceanside accommodation still available
We have many different types of accommodations, making it easy for you to choose your own adventure any season of the year, whether it's a summer cabin rental, a stay-in-place RV or a traditional campsite.
We are booking up fast, but still have available options featuring available shoulder season rates.