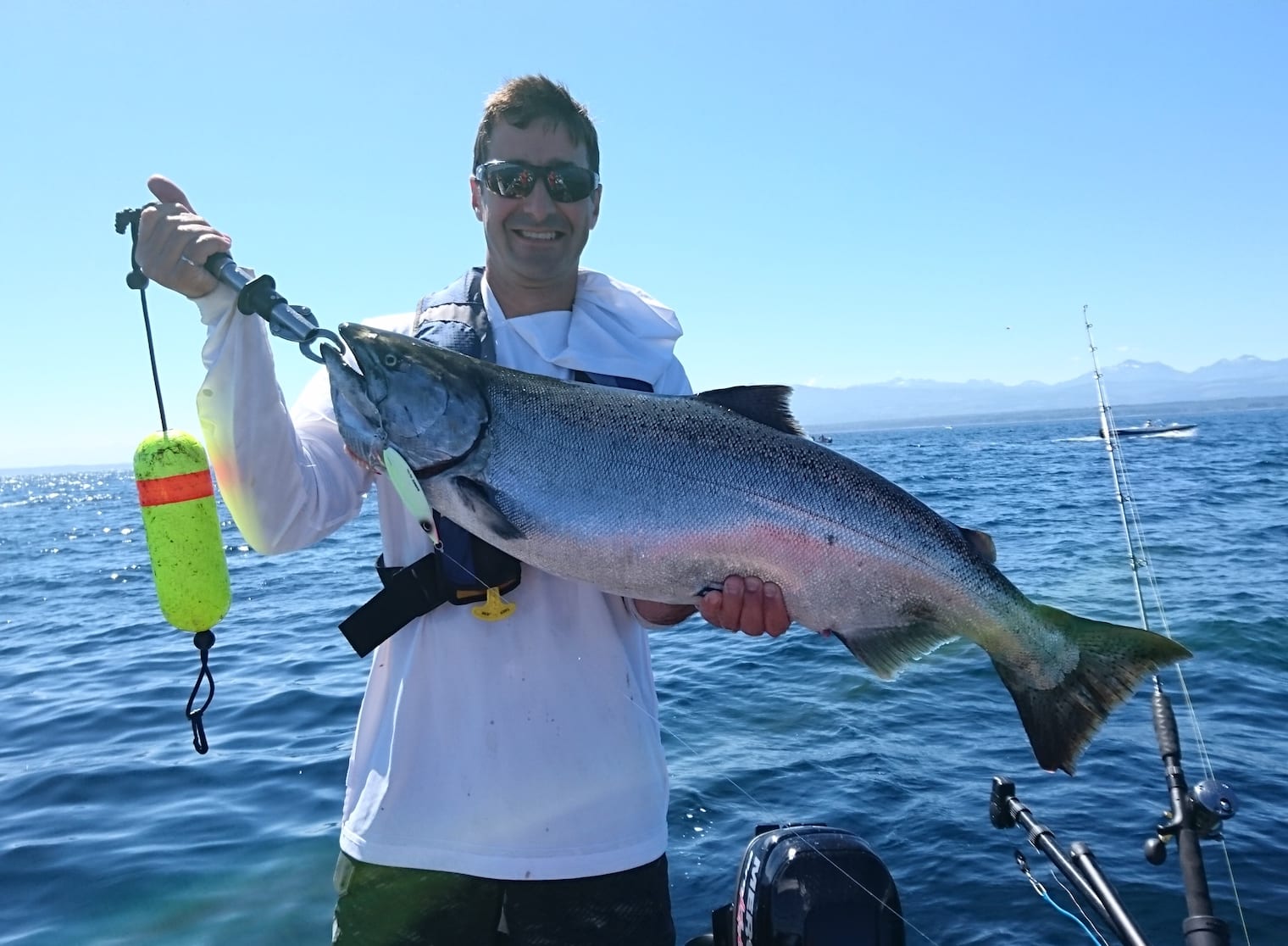 Vancouver Island Chinook and Coho Salmon Fishing
Fishing Charters Direct From Pacific Playgrounds
Vancouver Island is home to some of the best sport fishing in Canada. Chinook and coho salmon fishing is world-class in the waters surrounding Pacific Playgrounds Oceanside Resort. If you're looking for the Canadian fishing trip of a lifetime, we've got it.
More Fish Than You Can Shake a Rod At
Gentle currents and a rich ecosystem mean the waters off our beaches are filled with life: sockeye, cohos, springs, halibut, lingcod, red snapper, crab, prawns, clams and oysters. Depending on the time of year, you can find all this and more in and around our resort.

Salmon 101
Without a doubt, salmon are the sport fish of choice in BC's marine waters, and not surprisingly, they are talked about a lot and so have many monikers. Use this guide when talking to the locals and telling your tales:
Chinook: also called king, spring, or tyee if over 30 pounds/13.5 kg. Big and strong.
Coho: also called silver, blueback, northern. Smaller but feisty and sought after.
Sockeye: big and tasty.
Pink: also called humpy. Big but not as tasty as sockeye.
Chum: also known as dog or keta salmon. Strong like chinook, jump like coho.
How to Get at Them
Depending on the time of year, you can sit on the dock of our marina and watch the salmon jump. Same is true on the Oyster River that runs along our lane of cottages. But if you're looking for the experience of a lifetime, you want to be in deep water landing a tyee. Your ticket to the big ones is through a professional boat charter. When you charter a professional guide, you're hiring a safe, knowledgeable resource who knows the local lore and secrets that can make a trip so successful and so memorable. Just describe the experience you want to have and the fish you want to catch, and your guide will do the rest.
As a bonus, from the deck of the boat, you'll also be treated to wildlife spotting — on shore, in the air, and on the water. Orcas, seals, dolphins, whales, eagles and osprey regularly cruise past as we pull in our catches.
For those who want to make lasting memories, head out early to be the first to cast a line into the dark waters, just as the sun explodes over the horizon. It's a moment you'll treasure, and the first leviathan you wrestle onto deck will be a thrill you'll not soon forget.
What Time of Year Should I Book?
Vancouver Island is blessed with year-round fishing, but use this as a guide for booking your British Columbia fishing holiday:
Fall–the annual fall salmon run into the Strait of Georgia can attract a huge number of anglers to our resort. You're right on the doorstep of Discovery Passage, which is world-renowned in this season. For fly fishers, coho run the Oyster River, and the Oyster River runs right beside our cabins.
Late-September–major chum run
Winter–chinook reside all winter
Mid-June–major chinook run
Mid-July–successive runs of pinks, coho, sockeye and tyee
Not Sure What Time of Day to Book?
That's what your guide is for. Just state the type of experience you want and you'll get expert advice on when to book and when to depart. In general, fish bite well just as a slack tide falls and before and after either tide. Don't know how to mark a tide? Better hire that guide!
Resources for DIY Types
The BC Sport Fishing Guide by Fisheries and Oceans Canada provides all the information you'll need to get fishing, including fees and regulations, in-season fishing decisions, unlawful practices, packaging of fish for transport, and reporting of fishing violations. Research the tides here.
Looking for extra adventure? Just remember that bottom fish such as ling cod, rock cod, snapper and halibut are also abundant in our local waters. Grab a rod and get out there!
Happy fishing from your friends at Pacific Playgrounds.
Book a British Columbia fishing charter
Accommodations at Pacific Playgrounds
Check out our marina