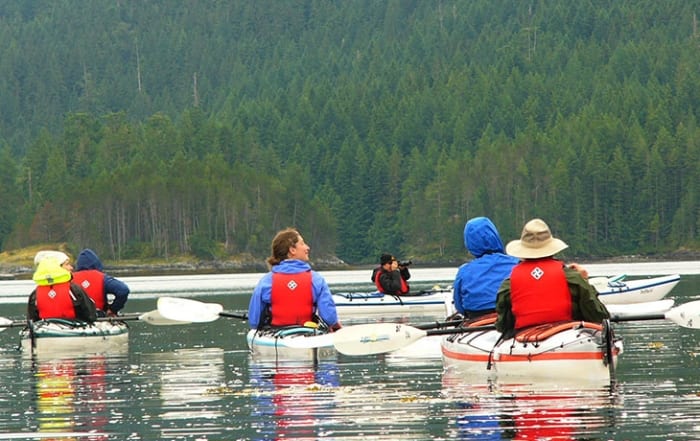 Explore Beautiful Vancouver Island by Kayak
Pacific Playgrounds Rents Safe, Comfortable Adventure Sea Kayaks
One of the best features of Pacific Playgrounds Oceanside Resort is its proximity to water–both the Oyster River and the Pacific Ocean. Because we have so much water, we keep a fleet of quality, comfortable, and super-stable Pelican sea kayaks at the ready. Grab a single or a tandem boat and explore all that the river, its estuary, and the ocean have to offer.
There's no better way to discover the meandering coast of Vancouver Island. You can launch right from the dock in our sheltered marina and head up the slow, scenic Oyster River, or paddle around the sandy delta as it teems with life according to the tides, or head out on a day's adventure up the coast. There's so much to discover and so many destinations to experience when you paddle.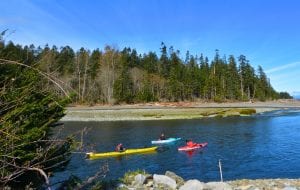 Wildlife Sightings Around Every Corner
From the seat of your kayak, you can expect to experience an incredible diversity of wildlife. Depending on the season, you could see dolphins, orcas, seals, crabs, oysters, salmon, birds of prey, grizzlies, deer and much more. It's truly a smorgasbord out there, and our friendly staff at the Tackle Shack will not only outfit you for your day's adventure, but they'll let you in on all the local secrets. It's a real treat to experience, and we encourage you to head out and see all you can.
Staying Safe Is Common Sense
When we're treated to a pod of whales or a family of seals, it's important that we give them space. We ask that you take pictures from a respectful and safe distance and that you not chase any of the amazing creatures that call our waters home. Same goes for the landlubbers–grizzlies, deer, and eagles need lots of space. There'll be plenty of time to share your tale and your pictures while hoisting a drink or two back at the resort.
When it comes to gearing up, our experienced staff will outfit you with all the safety equipment you need and give some good advice on how to structure your adventure with regard to the winds and the tides. Paddling is extremely comfortable in the summer when the air and the water are warm. On rainy days, it's still fun to paddle the Oyster or traverse up and down the shoreline. A rain jacket and waterproof camera bag are usually the only extra gear you need to have a great time.
Feel like taking a paddle? Contact Island Life Expeditions (www.islandlifeexpeditions.com)e
Feel like staying closer to shore?
Stand-up paddle boards are also available to rent at Tackle Shack. Choose a light and stable board or go for the family board that holds up to four average-sized adults. You won't know what gave you the great ab workout–all the laughing or the paddling.
Check out all the other activities we have on offer at Pacific Playgrounds.